Leading Comics Publisher Papercutz Develops Monthly Comics & Kids' Graphic Novels Featuring Iconic Character
Joe Clokey, President of Premavision/Clokey Productions and son of Gumby creator Art Clokey, is proud to announce that Papercutz, "the #1 Kids' Graphic Novel Publisher" will launch a series of new comics and graphic novels featuring the legendary character Gumby–the stop-motion animated TV star and top-selling toy. The first issue debuts on July 5, 2017.
Papercutz is creating new material based on the original hit Gumby television series. The episodes have found a new generation of fans through TV broadcasts, streaming services, YouTube and DVD releases. Gumby has millions of fans worldwide, and toys, DVDs and other merchandise are sold through mass-market retailers, like Wal-Mart and Target, and specialty stores. This resurgence in popularity is driving the creation of new media. Premavision recently announced development of a new television series (in partnership with the Jim Henson Company) and a feature film. With the recent 60th anniversary of the Gumby TV show, the timing is perfect for the character to return to comics.
"I'm always delighted by how the character my father created has touched the hearts of so many people," observed Clokey. "The proliferation of user-generated content online, the emergence of Gumby centered fan conventions and the huge reception we've received at places like Comic Con International show just how important Gumby is to so many people. We wanted to make sure we found a publishing partner who not only appreciated the property but also shared the approach and values that have made Gumby such an enduring character. Papercutz shares our commitment to creating great stories. And they also have some of the biggest Gumby fans I've ever met on staff. That made them the ideal choice for a publishing partner."
The Papercutz Team and Gumby Love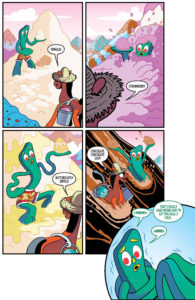 Chief among those fans is Papercutz Associate Managing Editor Jeff Whitman who will be one of the writers on the ongoing comic book series. "I've been a Gumby fan for as long as I can remember," explained Whitman, "And I think Terry [Nantier] and Jim [Salicrup] wouldn't have known how to deal with me if we hadn't been selected as the publisher for these characters. Did I wear a full-size Gumby costume to the office to help convince them we should go after this property? Maybe. What I can say for sure is we're committed to capturing the magic that Art Clokey brought to his creation and that we'll be exploring all the different settings and characters in the Gumbyverse while staying true to the essence of Gumby. He can jump into any book (with his pony pal, Pokey, too), so the story potential is virtually endless. We'll also be finding out more about the Blockheads, Gumby's sister Minga, his friends Prickle and Goo, and more recently introduced characters like his 'girl friend,' Tara. These comic will celebrate Gumby's past, present, and future. As the theme song goes, 'If you've a heart, then Gumby's a part of you.'"
"Jeff may be the biggest Gumby fan in the office, but he's certainly not the only comics creator with a love for the property," observed Papercutz Editor in Chief Jim Salicrup. "We've had numerous people approach us about working on the series and I think a lot of people will be excited to hear the first roster of creators we announce."
The Plan
Current plans call for an ongoing monthly comic book series to launch in July with the first issue debuting at this year's Comic Con International. The 32 page, $3.99 issues will feature a lead story and a five-page backup story, which will provide the opportunity for multiple creators to try their hand at the adventures of the "little green ball of clay."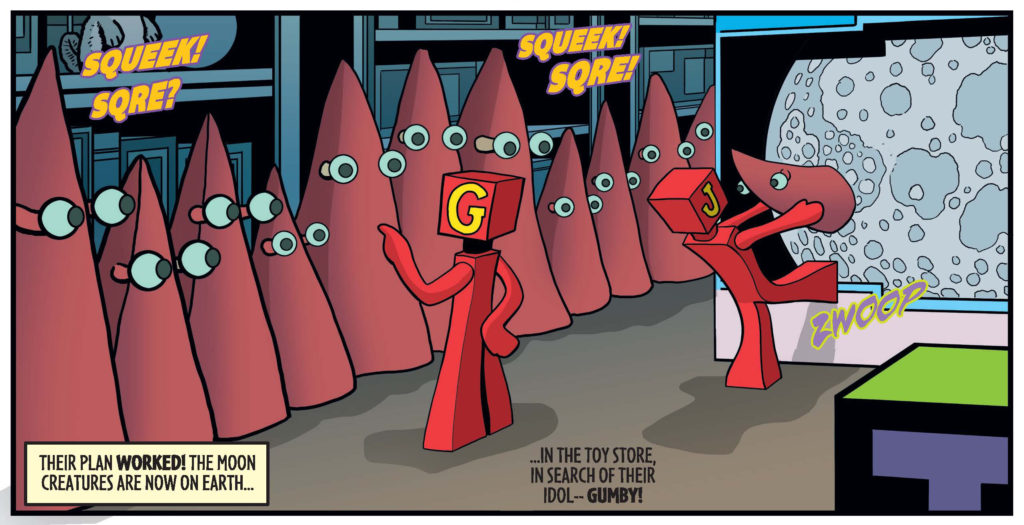 In addition to the new comic books, the series will be collected in graphic novel format starting in November 2017. "Gumby certainly has a lot of adult fans, but the character is also one of the great kids' properties," explained Papercutz Publisher Terry Nantier. "The graphic novels will let us place the character in bookstores, schools and libraries and reach a whole new generation of fans. It's a brand-new format for Gumby to explore, and I'm sure he'll prove just as popular in this category as he has in other media and toys!"
Added Clokey, "Gumby is a timeless character with universal appeal. I'm excited that we'll be able to share his new adventures with both Gumby enthusiasts and new fans. Working together, we'll be able to create a new chapter in the character's rich history."
Read more about Papercutz and the artists.
GUMBY #1 will be on sale at comic book stores, online retailers and bookstores everywhere on July 5th.