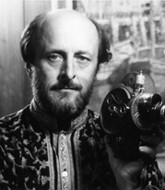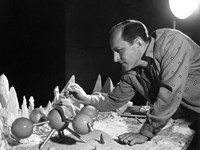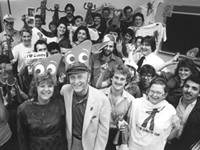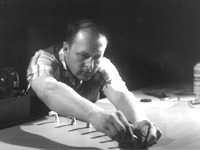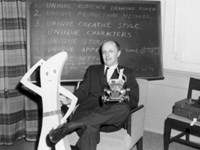 Art on the Art of Film and Animation
According to Art, kinesthetic film principles enabled him to show film forces through moving objects. "The movements exert a force on your nervous system. They pinch on your nervous system through your eye cells. When you organize the images in the movement from cut to cut, it stimulates the autonomic nervous system. It gives you added excitement and it can start a feeling of movement." Vorkapich taught him how to organize the visual so as to stimulate this feeling of movement in the mind and make the film much more exciting than it would be otherwise.
Art explained that filming clay animation is similar to music. "In music you build a climax through the use of timing and intensity of the stimuli—the duration, syncopation and so on." Vorkapich taught Art that film is "more like poetry and music." He would refer to the shots and define the cuts as notes: visual notes to combine and use in various ways, to get across your feelings, to delight and create new ideas and things—a new slant on life. You can do amazing things to the autonomic nervous system if you know how to organize these forces. It's the balancing of repetition, variety, tempo, and just a split-second of rest. It's all a mysterious combination."
Gumbasia was an experiment in pure movement in which geometric and amorphous shapes made from modeling clay transformed and moved to the rhythms of jazz. Indeed, this was the first time movement and music were joined together purely to purposefully translate one into the other, and by definition was the first music video.
Art purposefully avoided the use of any recognizable images to avoid potential distraction, and designed the film so that entire planes moved this way and that. Specific forms carried out complex, fluid, rolling, throwing and leaping movements that caused the viewer to feel the up-and-down motion of going over a hill at high speed or jumping over a log without using any of these traditional images.
Gumbasia was filled with these kinesthetic concepts, particularly one where a little ball of clay rolls into a rectangular clay piece that catches it, rises up, swings it back and forth, and shoots it forward. It presented a very powerful movement in the clay. It was so smooth and transitioned so well, that it seemed to have life. The shapes and colors balance each other within the movement and amplify it. When these seemingly static forms move, they move with grace and with color. "It's like Van Gogh. He gets excitement in his organization of colors and lines," Art explained.
Art on Kinesthetic Film Forces
Kinesthetic Film Forces in Action
How to Stuff a Wild Bikini – Title Animation