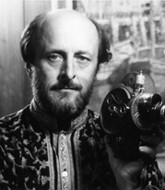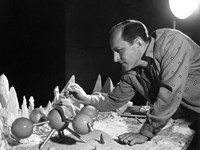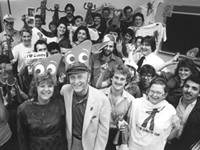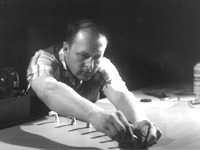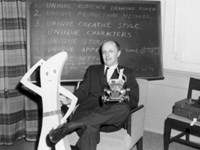 The Beginning: Thank You Budweiser!
In 1953 Art was working on commercials for Budweiser and Coca Cola. He had secured these contracts with the help of the giants in film and directing who had become his friends and introduced him into the circle of people who were looking for talented young filmmakers.
"The Budweiser commercials were live action, featuring basketball, airplanes, baseball people, and so on," Art told us. "But they had a close-up of a Swiss cheese sandwich and they wanted to show the cheese disappearing with bites. The beer is good with Swiss cheese. It was actually a piece of clay that we made and we formed it to look just like a piece of Swiss cheese, to fold and so on. And we began animating bites out of it. That 's the first time we ever used it professionally—clay. Then I had a two-week break between commercials. So, in my father's garage, we put a 4 x 8 piece of plywood on two saw horses and put clay on there, painted it, formed it into abstract shapes, pyramids, etc., and shot them using the kinesthetic style film principles that I was learning from Vorkapich."
The name of that film was Gumbasia, and it launched Art Clokey as an artist.