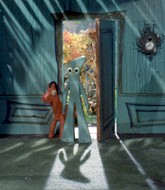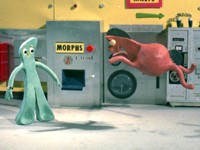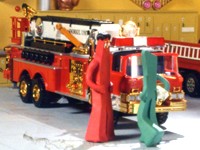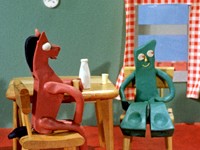 1980's Episode Overview
After the huge success of the 50's and 60's episodes, Gumby production took a break in the 70's and early 80's. In the early 80's Art Clokey and his second wife Gloria decided to see if people still remembered and loved Gumby. They went on a ten-city tour showing a selection of Gumby episodes and clay animation art films. Sell-out crowds with lines going around the block greeted them everywhere they went. These college age fans who had grown up on Gumby adventures still had a passion for Art's shows. They cheered, and sang "we want Gumby" and "Gumby for President." Following this, Eddie Murphy dressed up in a Gumby costume on Saturday Night Live and did a series of spoofs that re-awakened millions to their childhood memories.
There was something in these adventures from the 50's and 60's that adults really got into. They picked up on the fact that these adventures are creative works of art, and have a surrealistic imagination that awakens the child in all of us. During this revival period, Art signed a contract to make 99 new Gumby Adventures. In 1987 and 1988 Art put together a studio and trained the next generation of stop-motion animators, set builders, puppet makers and prop makers. The alumni from this group have gone on to animate films like The Nightmare Before Christmas, The Lord of the Rings, King Kong, along with the films at Pixar like Toy Story and Finding Nemo.
The 80's Gumby series has strong recurring roles for the Blockheads as the troublemakers. Prickle, Goo, and Professor Kapp are also obvious stars in this series.  Gumby gets a sister, Minga, who has many adventures with and without Gumby.  Gumby's parents, Gumbo and Gumba, are also very prominent in this series. Two other new characters include Denali the Mastodon and Tilly the chicken. Denali helps get our friends out of many jams with his ability to shoot ice cubes out of his trunk.
The 80's series is rich in color and adventure. The clay animation of Gumby has an amazing appeal. Instead of trying to copy real life like computer animation shows, it already is real, with real sets and real puppets come to life with stop motion magic.  Younger children really connect with this installment of Gumby adventures. Adults will notice how the animation improves as the series goes on. By the end of the 80's production, Tim Burton chose ten of the Gumby animators to make his stop motion masterpiece.
"Prickle's Little Brudder"