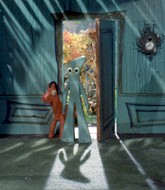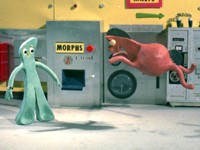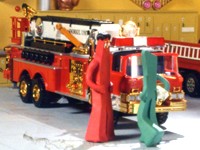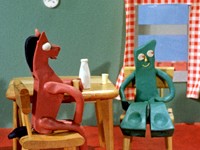 1950's Episode Overview
In 1953 while studying under famed director Slavko Vorkapich at USC Film School, Art Clokey produced a student film called Gumbasia. It was clay animation shot to the beat of jazz music. Art learned to use Slavko's kinesthetic film principles. In Art's words: "The kinesthetic movements exert a force on your nervous system. They massage your eye cells. When you organize the images in the movement from cut to cut, it stimulates the autonomic nervous system. It gives you added excitement and it can start a feeling of movement." Art showed this to Sam Engel of 20th Century Fox. Sam paced the floor a few times and then said: "Art, that's the most exciting film I've ever seen. Can you make little clay figures and animate them into children's stories? I want to improve the quality of children's TV." Art and his wife Ruth, who had a one-year old daughter at the time, both felt the same way about the need for better children's programming. So Art told Sam yes, and went on to produce a successful pilot with a green clay character called Gumby. As a result, Tom Sarnoff of NBC gave Art his own show with complete creative freedom.
The newly formed Clokey Films produced twenty-two 11-minute shows in 1956 and 1957.  These episodes showed a unique stream of consciousness and artistic playfulness never seen before. Gumby is full of wonder and awe, and is always leaving a place better than when he found it. With his best pony pal Pokey, Gumby can go just about anywhere, whether it's walking into book adventures or just exploring toy land. By the early 60's these shows were edited into forty-three 6-minute episodes. In the 50's episodes Gumby has a clay mouth and red beads for eyes. These early Gumby and Pokey clay puppets were made with rolling pins and cookie cutters. They have a much more handmade, free-flowing artistic look than the 60's versions, which were made by pouring hot clay into molds. In these 50's episodes Art really draws on the use of kinesthetic film principles, which work to excite the eyes cells.
Montage of Clips from 50's Episodes
Clip from "The Magic Wand"
Clip from "Outcast Marbles"