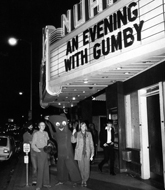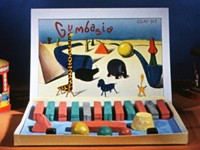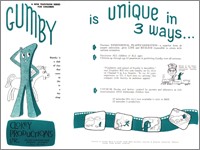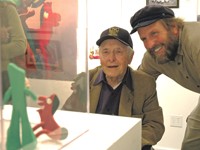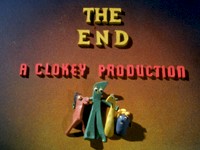 History
Gumby and Art Clokey have a long and interesting history. Backed by more than 50 years of performances in 234 episodes and a movie, Gumby has become a cultural icon. Audiences of all ages have been inspired and entertained by Gumby. People don't just like Gumby, they say "I LOVE Gumby."
Here is a brief timeline of the highlights.  For a dramatic and entertaining biography of Art Clokey, check out the Emmy Award-winning documentary Gumby Dharma. You can also read more at www.Premavision.com, the studio website.
1950s
Early 1950's
Art Clokey produces a stop motion/live action commercial for Andersen's Pea Soup.
Early 1950's
Coca Cola and Budweiser hire Art to produce commercials with stop motion animation and slapstick humor.
1953
Art produces his art film: Gumbasia, and producer Sam Engel encourages him to create clay characters and stories for children.
1955
Gumby is created. Art produces the first Gumby pilot and gets the green light from Tom Sarnoff at NBC to do an animated series.
1956-1957
Gumby stars in his own Saturday morning TV series, The Gumby Show. Production on the first 22 Gumby episodes goes into full swing at Clokey Films Hollywood studio.
1959
The Lutheran Church approaches Art and Ruth about creating a children's stop motion program with religious messages. Davey and Goliath are the result.
1960s
1960
Clokey Productions moves to a large studio in Glendora, California
1962-1968
A busy decade. Art and Ruth create 85 additional Gumby Adventures, which are syndicated worldwide. Gumby and Pokey bendable toys are introduced and break all sales records.
1961-1975
65 fifteen-minute Davey and Goliath episodes and six half-hour specials are produced and syndicated worldwide.
Early 1960's
Art creates two silent comedies, The Plucky Plumber and Lawn Party, using a pixilation technique of stop motion animation of people.
1969-mid 1970's
Gumby is no longer in production, but Ruth Goodell (Clokey) continues to run the studio and complete the Davey episodes into the 70's.
1970s
Early 1970's
Under Ruth's direction, the studio completes the Davey project and a series of animated specials for Reader's Digest that air nationally, entitled: "I am Joe's Heart, I am Joe's Lungs,"…
1974-1977
Art and his new wife Gloria produce the art films, The Clay Peacock and Mandala, in their basement with the help of their children.
1977
Art and Gloria create an expressionistic, bendable toy called, Moody Rudy.
End of 1970's
Ruth closes the Glendora studio, and Art and Gloria, driven by encouraging fans, look forward to getting Gumby back on TV.
1980s
1980's
The revival is going strong. Gumby is on the air in national syndication and quickly becomes the top animated show of all time.
Early 1980's
Art and Gloria hit the road, presenting to sold-out crowds at college campuses.
Early-mid 1980's
Eddie Murphy introduces the "I'm Gumby Dammit" spoofs on Saturday Night Live. College kids are watching Gumby again with fresh eyes and a new appreciation for its art and surrealism.
1987-1988
Art and Gloria produce 99 new Gumby episodes in their new studio (Premavision) in Sausalito, CA.
1990s
1992
Art finishes The Gumby Movie, which was not widely advertised nor distributed.
1996-1998
Warner Vision releases the video of The Gumby Movie, and it quickly sells nearly a million copies on VHS. It airs numerous times on Showtime, HBO and the Disney Channel.
Mid 1990's
Nickelodeon airs all of the Gumby Adventures from the 50's, 60's and 80's for its anchor spots. It's on top of the ratings for over three years.
1998
The Gumby series airs on the Cartoon Network.
2000s
2001
The studio produces station ID's starring Gumby and Pokey, which air on ABC.
2003
Gumby and Pokey are featured in a Rose Parade float.
2004
Premavision's state-of-the-art stop motion animation studio finishes a Davey and Goliath feature, Davey and Goliath's Snowboard Christmas, which premieres on the Hallmark Channel. Several 30-second Davey and Goliath spots are created for the Evangelical Lutheran Church of America.
2005
An international AP story on Gumby's 50th anniversary is picked up by almost every major and minor newspaper and TV network in the world.
2005
The Clokeys celebrate Gumby's 50th anniversary with a huge birthday bash in San Francisco with animators from five decades and entertainment by Smashmouth and the Gumby All-Star Band.
2005
The Museum of the Moving Image in New York presents an extensive Gumby exhibit.
2005
Gumby stars in a video game produced by Namco.
2006
The Museum of TV and Radio in New York and Los Angeles show a Gumby through the Years film retrospective which has a 12-month run.
2007
Gumby has exhibits and film presentations in St. Paul, St. Louis, Atlanta and Seattle.
2007
The new Gumby Comics win the Eisner Award at Comic Con.
2008-2010
Gumby Dharma, a documentary about Art Clokey and Gumby, airs on PBS and then over 30 times on the Sundance Channel. It wins an Emmy for best documentary. It continues to air.
2009
Gumby appears in Pepsi's Superbowl ad.
2009-2011
Gumby episodes outsell the competition in Australia.
2010
Art Clokey passes away and is mourned throughout the world. Thousands of newspapers along with all the TV networks honor his work.
Florida Schools begin using Gumby and Pokey  as spokespersons in their "Stretch for Excellence" program to improve student achievement, attitude, and attendance.
Gumby starts airing on Netflix.
2012
Art Clokey is honored by Google with a doodle on what would have been his 90th birthday in October.
2012-2013
The Disney Family Museum features Gumby in a special stop motion animation exhibit.
2013
Gumby appears in GMC's 2013 TV commercial.
2014-2015
Gumby stars in Honda's integrated ad campaign that airs  on TV over 700 times nationally.
2014
Glendora, California, the 1960's home of Clokey Productions, launches the first annual Gumby Fest.
The Gumby Mazda race car, driven by Kenton Koch takes first place at Laguna Seca.
Several new Gumby apps launch.
2015
Newly re-mastered Gumby episodes begin to appear on Teletoon network TV in Canada, on Kabillion (free on-demand cable) in the U.S. and on Ameba TV streaming service in the U.S.
NCircle Entertainment begins releasing the re-mastered Gumby episodes on DVD in September in collector's edition sets. A new 1950's style Gumby bendable toy is made for the first time.
Gumby, who was molded from clay in 1955, celebrates his 60th birthday. He gears up for 2 more years of anniversary celebrations.
Arizona State University hosts a Gumby 60th Birthday exhibit in their gallery.
Gumby Fest gets a new home at Citrus College and expands to fill an entire weekend.
Gumby and the Clokey family appear on A&E's Shipping Wars show.
Premavision and the Jim Henson Company team up to produce a new Gumby TV series.
………………………………..
Fans never seem to get enough of Gumby. They dress in Gumby costumes at sporting events and concerts, don Gumby hairdos and create Gumby mash-ups in every digital medium. Branches of the U.S. military are including Gumby in their training programs –"Semper Gumby," (always flexible.) That's the power of Gumby.