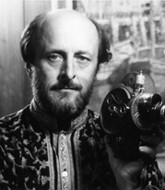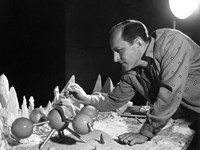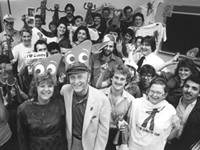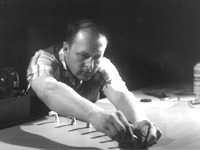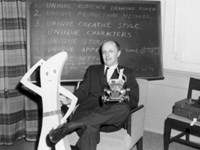 Davey and Goliath: A Message of Love
Ruth Parkander Clokey was raised by a wonderful father, who was a Lutheran minister for 50 years in Chicago and Providence.  Right out of college, Ruth moved to Greenwich Village and was put in charge of the education programs for the National Lutheran Church. When the Lutherans saw Gumby in the late 50's, they called Art and Ruth and asked them to create something similar, but with a "God Loves You" message. Art and Ruth had originally wanted to do religious films when they met at the Hartford Seminary back in the late 40's, so they immediately said yes. Ruth and Art proceeded to create Davey and Goliath for the Lutheran Church from 1961 to 1975. The Clokey Production team did 65 15-minute shows, along with six half-hour specials. Art and Ruth did the early 60's batch together, and then Ruth continued Davey without Art in the late 60's to mid 70's. Ruth was really proud of the Davey series, and she cared deeply about its positive influence in the world.
Art wanted to create stories for children that communicated a message of love, and this is very powerfully expressed in the Gumby episodes. At the same time his background gave him a deep respect for Christian values, and a deep understanding of Christ's love for children. "I wanted to be with the children. I wanted to get this message of love into film. After finishing the 50's Gumby films, we started producing the Davey and Goliath series, and we actually had an opportunity to make religious films with this message."   Art's favorite episodes (and the ones he wrote himself) are "The Silver Mine" and "Sudden Storm."  Ruth's favorite one was "Poka Dot Tie" because it took on racism. In fact, it was the first children's show to do that. In 2004, Clokey Productions produced a one-hour special Davey and Goliath's Snowboard Christmas.  Art helped with some key action elements of the script, and Ruth was able to enjoy checking out the studio as her son Joe produced the special.
Davey and Goliath
Clips from "Silver Mine"
Davey and Goliath
Clips from "Silver Mine"
Clips from Davey and Goliath Snowboard Christmas