Gumby Imagined, Story of Art Clokey and His Creations is in Bookstores Now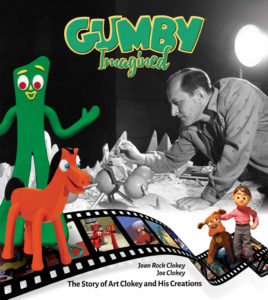 Gumby, the world's original clayboy and legendary pop icon is the subject of a new retrospective art book. Gumby creator Art Clokey was an animation pioneer, and his characters Gumby and pony pal Pokey, along with Davey and Goliath, have shaped generations of childhood memories and have touched the hearts of fans worldwide. In celebration of Gumby's 60th anniversary, Art's son Joe and his wife Joan have written Gumby Imagined, a comprehensive biography of Art and his characters. At 300 pages and packed with hundreds of photos and fascinating stories, this is the ultimate compendium. It's an amazing pictorial history with never-before-seen photos. Get yours here.
"This is the Gumby-lover's dream come true!  The writing is so honest and compelling, and what a life story your family has had, Joe! Hats off to you, Joan for the very loving and deeply honest vibe to the writing," writes Martin Olsen, Lead Writer for Phineas and Ferb. Olson continues, "You two collaborated so beautifully on this project. Reading the book feels like going into the heart and soul of your family and hearing how Gumby emerged from it, in all Gumby's incarnations. The photos are absolutely amazing, and what a journey your family had through life. The fun and the love and the creativity are apparent on every page, but especially apparent is the honesty. That's the unique beauty of this book; everything is told in such a kind, heartfelt way, no holds barred."
An anonymous fan wrote:  "Wow. A big and beautiful retrospective of everyone's favorite flexible friend! I'm really enjoying the deep dive into the history of this classic character and the people who brought Gumby (and other great characters) to life! Outstanding!"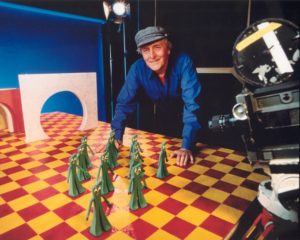 A Riveting Tale
Gumby Imagined is a complete biography that chronicles the tragedies and triumphs of Art Clokey's life. It's a true "American Dream" tale. In the book you'll see how Art's life shaped the characters and stories he invented. Hard-hitting childhood struggles resulting in placement in a home for abandoned boys during the Great Depression. A dramatic turnaround. Adventure. World War II photo reconnaissance behind enemy lines. A lucky break. Partnerships made and dissolved. Spiritual seeking. Creative freedom. Art films. Hard work and play. Success and loss. Talented artists and crew…. This personal and inspiring story brings it all together.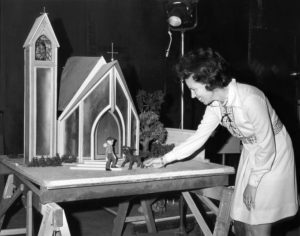 "The most fascinating life story I've ever known just happens to be about my dad, mom and the world famous characters they created. Art Clokey's journey intersects and influences major touchstones of our American life. The sixty-year, behind-the-scenes story of Gumby and Davey and Goliath, interwoven with a rich tapestry of photos and rare anecdotes, weds perfectly with Art Clokey and his amazing life," says Joe Clokey.
"Gumby Imagined is a fascinating 'page-turner' with never-before-told stories about this clay animation pioneer beginning with his childhood tragedies. Learn about how Art got his start in the biz, his groundbreaking stop-motion TV commercials, trippy art films, and the most comprehensive look ever presented of the beloved shows. Explore Art's fascination with the counter-cultural creative winds of the late '60s and '70s, infused with his spiritual learning from Christianity, Zen Buddhism and Eastern avatars. All of which provided the foundation for Art's creative works," continues Joe.
Impact
Having entertained generations of fans since his introduction in the early 1950s, Gumby–unforgettable, kind-hearted, flexible–is firmly rooted in American culture. Art Clokey made an indelible mark in the world of animation and i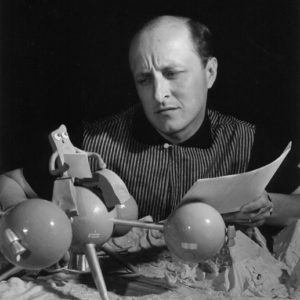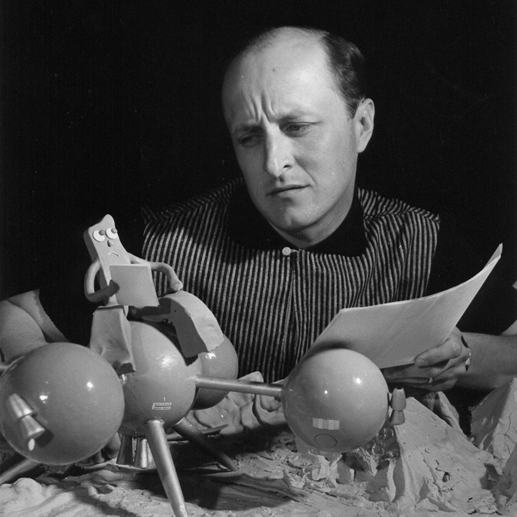 nfluenced thousands of artists. A teacher at heart, he mentored many creatives who went on to be stop-motion superstars known for their work on iconic films such as Star Wars, Terminator, Beetlejuice, Nightmare Before Christmas, Toy Story, Kubo, and many other blockbusters.
Dynamite CEO and publisher, Nick Barrucci, said "Art Clokey and Gumby are as important to the history of American animation as the creations of Walt Disney…to be able to tell the story of this man and his incredible cast of characters is a high watermark, both as a publisher, and for me as a fan. Looking through these incredible photos and reading such rich history is guaranteed to make each and every one of us feel like a kid again."
"Gumby Through the Years" Presentation and Book Signings
Joan and Joe are available for presentations and book signing events. Their "Gumby Through the Years" video/live presentation has sold out at Comic Con, Gumby Fest and other venues. Please contact us here for more information.