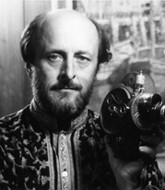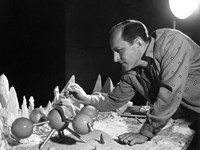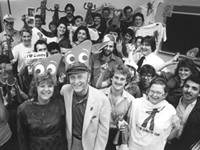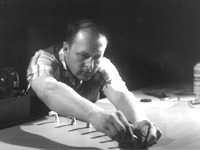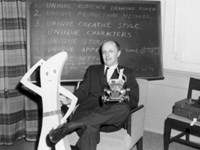 The Formative Years
Fossils, Mud and Adventure
Art Clokey, the creator of Gumby and Pokey, and a true innovator in the clay animation industry, began his work with clay figures on his grandfather's farm 80 miles north of Detroit where he spent his summers in the 1930s. It was paradise to him as a boy. A neighboring farmer had a son about his age. They would play together in the barnyard or in the living room of the house. The son had a set of blocks and toy cannons. They built forts with toy soldiers. They would shoot pencils and marbles out of the cannons and destroy the forts. When they ran out of soldiers Art began to make them of clay. It was the first time he can remember working with clay.
Art tragically lost his father in a car accident in Detroit when he was nine. After living in a home for abandoned boys for several years, he was adopted at the age of twelve by Joseph W. Clokey. Professor Clokey was a renaissance man who wrote over 200 pieces of original music and taught music at Pomona College. Joe and Art spent the summers going on adventures in Canada, Alaska, Siberia and the American West. They would explore, paint and film with their new camera.
From the 8th grade on, Art attended Webb School, which had the inspiring Ray Alf teaching geology. Ray would take Art and his best friend Bill Webb on fossil digs in the Mojave Desert and as far away as the Nebraska Badlands. They uncovered dinosaur bones and ancient camel tracks. They formed the Peccary Society, named after a bird fossil they had discovered. The Webb School Museum rivals most colleges when it comes to fossils, and Art was one of the founders. These were wonderful years for young Art, and he took his father's film camera along on these adventures.
Art always stressed that the Gumby episodes were "The Adventures of Gumby."  The adventures he had growing up definitely found their way into the creative storytelling of his career. "The Silver Mine" is a Davey and Goliath episode that Art wrote and produced is just one example. The limitless imagination and creativity of Gumby owes itself in part to Art's turn of fortune in his youth.
Art spent WWII helping the military with photo intelligence in North Africa, Italy, and France as the war progressed. When he returned home, Art studied geology (of course) and got his liberal arts degree from Miami of Ohio. He then went to the Hartford Seminary to become an Episcopal Priest. He met Ruth Parkander, who was getting her Masters in Religious Education. Their romance led to marriage, and they moved to Hollywood to make religious films. Well, that would come with Davey, after some other creations.
Dad Clokey's Music to son's animation