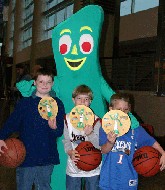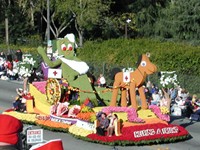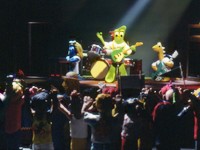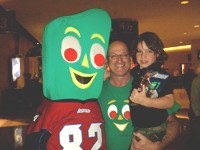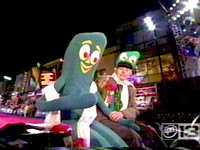 Welcome Gumby Fans!
Fan, Follow and Subscribe…
GumbyCentral is ready to rock, keeping you informed of the latest Gumby happenings. So sign up and fan, follow and subscribe to see what's new. These are the official Gumby social media sites by the creators of Gumby:
 …………………………………………………………………………………..
…and get some special perks: discounts at the Gumby store, previews of unreleased videos, the latest news, and other fun stuff.  Sign up today, and you'll get access to watch "Moon Trip," Gumby's very first adventure and one of Art Clokey's more surreal works. This is Part 1 of the pilot that started the Gumby series. Now for the first time, you can see it re-mastered (from the original source) so you can enjoy the vibrant colors, dynamic action and unique story of this classic film.
Plus, you'll receive quarterly e-newsletters on the latest Gumby happenings and specials at our Gumby store.
…………………………………………………………………………………..
Gumby Fans Hall of Fame
Are you a serious Gumby fan? How do you show your Gumby love? Drop us an email and send photos or video links. You might just be chosen to be honored in the Gumby Fans Hall of Fame. Email us.
Gumby Loves Fire Trucks!
Meet Gumby Fan and Firefighter: Jonathan Kasper
"As a child growing up in the early 70's, I was always a big fan of Gumby. My friends even nicknamed me Gumby and many of them still refer to me as such today. Sometime in the 1990's, I met Art Clokey at an animation show in New York City. The greeter at the front door to the show was wearing a realistic Gumby costume. A few weeks later, I purchased the costume from Art and have cherished it ever since.

The Volunteer Fire Company in my town has a long standing tradition of taking out the antique fire engines just before Christmas and having Santa visit the children. Several years ago I decided to wear my costume and introduce Gumby into the festivities. My intent was to share the values he represents with the local children. I am proud to say that both the kids and their parents really get a kick out of seeing Gumby. He always brings smiles to their faces!

It has been my pleasure to be a Gumby goodwill ambassador and I am honored to be part of the Gumby Fan Hall of Fame."
-Jonathan Kasper, Volunteer Fire Fighter, Pelham Manor, NY
Gumby Fans Show Off Their Gumby Collections
The Gumby Guest Room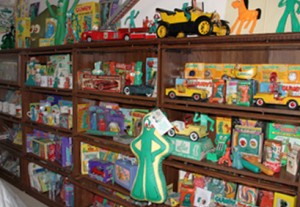 The collection of Gumby memorabilia in the "Gumby Guest Room" of a California fan is amazing. Gumby  graces the walls, floors, ceiling, shelves and bed in this "Gumby Guest Room." We're envious of  the "museum" and were told that much of the collection would not fit in the room.
True Gumby Fan
Brenda, a fan in Portland, Oregon, has wide assortment of Gumby items from every decade. See her collection.
How big is your Gumby collection?