Watch Gumby on Amazon Prime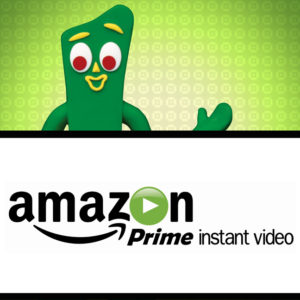 You can now enjoy all of the great, remastered Gumby episodes from the 1950s and 1960s as well as The Gumby Movie streaming on Amazon Prime. For the first time ever, the complete Gumby Show has been remastered from its original camera rolls and soundtracks, with the brilliant and full-length formats as first aired. These imaginative surrealistic, stop-motion animated masterpieces will mesmerize children and adults of all ages.
Gumby Fun for the Entire Family
One reviewer wrote: "What fun!!! I love watching these stories told with clay alongside my 4-year-old son! He is in hysterics seeing Gumby get into trouble and have adventures. My mom loves the cartoons too, as does one of my toddler twins. If you are tired of the soulless didactic computer-generated animation that little kids are supposed to consume these days, do yourself a favor and put on a Gumby cartoon." – Maryl S.
Joe Clokey, son of creator Art Clokey, painstakingly, and lovingly, remastered all of the episodes from the original film rolls, so the episodes look as though they were just shot. The bold colors and incredible tex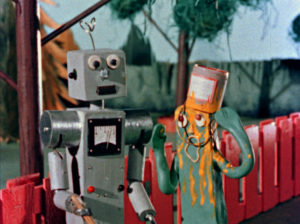 ture of real light hitting real sets draws us in and makes us part of these miniature worlds. Joe is thrilled that Gumby is available on Amazon Prime: "It has been my dream that a new generation of kids will get to see the wonderful world of Gumby. Moms, dads, grandparents, aunts and uncles, can watch the shows together with the kids. With the remastering, the episodes will be 'new' for all. Kids will be delighted and brought to a land of wonder while watching the episodes."
A fan reviewed the '50s series, "This show is a classic, and it's amazing how the quality holds up to this day! I keep forgetting this series is over 60 years old because of how well this was remastered. This is one of my favorite shows, so I bought the box sets in a heartbeat. Now that the series is on Prime, I can watch it anywhere and that makes me so happy!" – Shannon G.
About the '60 series, a fan wrote, "Excellent series! They don't make them like they use to, and that so terrible for the younger generation."  – Mike R.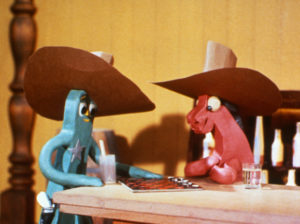 If you don't have Prime, you can purchase the DVDs produced by NCircle Entertainment here. The '50's series and two volumes of '60's episodes are currently available in DVD gift sets, which include fun bendable toys! The Gumby Movie is now available on Blu-ray for the first time. It's re-mastered, and all of its original scenes are intact in the fall 2017 DVD release.
You can also view the episodes on cable TV through Kabillion, a free on-demand cable station and streaming through AmebaTV via their website and on X-box, Roku and other platforms.
Now let's go enjoy the show….