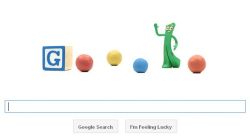 San Luis Obispo – October 12, 2011, we celebrate Gumby creator Art Clokey's 90th birthday, and Google is honoring this stop motion pioneer with a doodle. Google's home page will feature a unique interactive stop motion clay doodle created by the Clokey Productions Premavision studios. Coinciding with the birthday fanfare is the premiere of the new Gumbyworld.com website—Gumby's new home!
"The Google Doodle is the perfect tribute to my fathers work," says Joe Clokey, Art Clokey's son and creator of Gumby's new website. "Art's life and film career were ahead of their time. My dad would have been thrilled to be connected with Google in this way."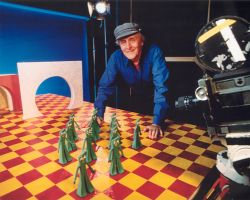 A true visionary and pioneer, Art Clokey touched millions around the world with his creations. Art's clay animation short Gumbasia expressed an exciting kinesthetic brand of film making that has influenced many of our current leading directors. The new Gumbyworld.com website is rich with new, classic and rare film clips, pictures, biographical information about Art Clokey's formative years along with an in-depth look at his five decade long run of his cutting-edge film making.
From the Adventures of Gumby and Davey and Goliath to surrealistic art films, Art Clokey had a fascinating and influential career. The new website Gumbyworld.com is the most comprehensive look ever at the iconic green clay boy and all of the other characters in Art's limitless universe of imagination and artistic expression. Included are clips of Art Clokey talking about the creative process and a look into some of his lesser known pilots. Gumby and Art Clokey, two American originals.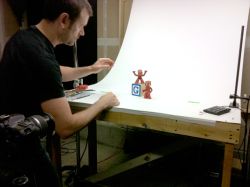 Renowned animator Anthony Scott created the doodle animation. Scott is known for his animation direction and supervision on Coraline, Corpse Bride and The Nightmare Before Christmas. Scott got his start in animation working on the 1980's Gumby series, under Art Clokey himself. He was also the lead animator under the direction of Art's son Joe Clokey on the Davey and Goliath Snowboard Christmas movie, which was released in 2004. Gumby lead puppet maker Nicole La Pointe-McKay modeled the various characters for the Google animation.
About Premavision
Clokey Productions and Premavison studios, founded by Art Clokey in 1956, produce stop motion animation TV series, films and commercials. They are best known for creating the iconic characters Gumby, Pokey and friends and Davey and Goliath. Located in central California, they draw the most talented animators, puppet makers and set designers in the industry.
For more information about Gumby, Premavision and existing licensing opportunities visit www.gumby.com