The iconic Canadian band RUSH has a new documentary, RUSH / Time Stand Still, which debuted in select theaters on November 3 and 17, 2016 in the U.S. and Canada. This fascinating documentary chronicles the final major tour of the legendary rock band.
Gumby – RUSH connection
RUSH members love Gumby! So much so, that they featured cuts to Gumby and pals jamming to their first big hit "Working Man" at their theater showings and in their promotions. Check out the Rush Facebook page to see the official jam.
The DVD/BluRay released on November 18. Best Buy has a special edition of the DVD that includes a Gumby keychain with Gumby wearing a RUSH t-shirt. Click here for a sneak peek.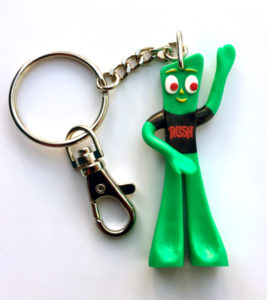 About Time Stand Still
The RUSH Time Stand Still website explains:
"It is an intimate view "under the hood" of a historic moment from the perspective of the band, their fans, crew, and management. Featuring interviews with the band throughout their sold-out 2015 40th Anniversary Tour, the film also shows rarely seen backstage footage capturing the final moments of life on the road. Highlighted as well is the impact on the band's fans and the world that has been built around the beloved Canadian trio."
Reviews
"Time Stand Still is not only a good story, but it helps to explain why this band has mattered to so many people, in so many countries, for so many decades. – Huffington Post
"It's true that RUSH doesn't mean today what it did in '76 or even '96. It may mean more." – Rolling Stone
You can read more about the documentary here.
Gumby has many fans in the music world. We're thrilled to include RUSH.