Here Comes the Parade
Gumby and the Clokey family were honored as Grand Marshals of the Glendora Christmas parade on December 14, 2013. Gumby appeared in person to hug and high-five fans. A 20′ tall inflatable Gumby made his way down the streets, bowing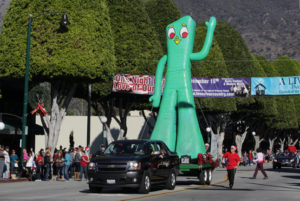 to the crowd. Gumby did as Gumby always does… he brought a smile to every face. Generations of fans lined the streets to cheer for this beloved icon.
The city of Glendora considers Gumby their son, because Gumby's studio, Clokey Productions, was located in Glendora in the 1960s and 70s. Gumby grew up in Glendora! Art and Ruth Clokey produced 85 Gumby episodes in a Glendora warehouse, which were syndicated worldwide. Clokey Productions also created 65 Davey and Goliath episodes and six specials through the mid-70s. Gumby's studio then moved to Sausalito, California, where another 100 episodes were made in the 80s.


Introducing Gumby Fest
The city of Glendora also chose Gumby and the Clokeys for this year's parade as a kick-off for the first annual Gumby Fest. Gumby Fest, scheduled for Saturday, June 14, 2014, is Glendora's fun-filled celebration of all things Gumby and stop motion animation.
Joe Clokey (Gumby's brother) will present, "Gumby Through the Years" a wonderful retrospective of Gumby's journey. Animators and crew who worked on Gumby productions and other well known animated films will take part in discussion panels. Fans will have an opportunity to learn about the 60-year history of the character and see clay puppets and sets at the temporary Gumby Museum. There will be screenings, demonstrations, hands-on art activities, music, photo opportunities with Gumby, and a stop motion animation film competition. It will be fun for the entire family. You won't want to miss it!
See you there on June 14th.  Gumby Fest will take place downtown Glendora at the library 10:00 a.m. – 4:00 p.m.
Learn more about Gumby Fest at www.gumbyfest.net.