Family Fun for All Ages
The inaugural Gumby Fest, June 14, 2014, in Glendora, California, was a smashing success! Thousands of Los Angeles locals, and Gumby fans from as far away as Canada and Las Vegas, turned out celebrate all things Gumby and honor Gumby's connection to Glendora. The Gumby studio, Clokey Productions, which also produced the famed Davey and Goliath series, was located in Glendora in the 1960s and 70s. The Glendora Chamber of Commerce, Glendora Community Services, Glendora Library, Glendora Rotary and Glendora Kiwanis banded together to produce this historic event in Gumby's childhood hometown!


Special Guests, Fascinating Presentations
Joe Clokey, son of Gumby creators Art and Ruth Clokey gave a wonderful retrospective presentation "Gumby Through the Years," which brought back a flood of fond memories for attendees. A steady flow of fans visited the temporary "Gumby Museum" which showcased photos, puppets, set pieces, toys and other memorabilia, provided by the Clokey family. Gumby episodes were shown in two locations, and a variety of animated student shorts submitted to the festival were also screened.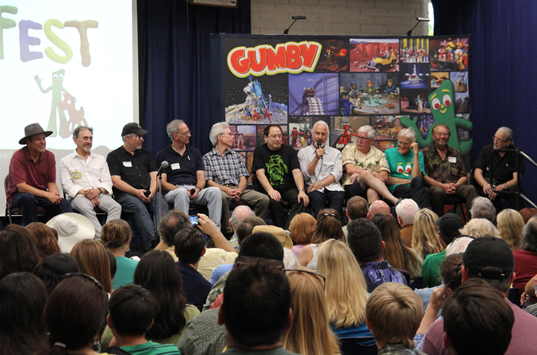 The "Gumby Gang," a panel of current and former Clokey Productions animators, puppet makers, cameramen, artists, etc,. spoke to a packed auditorium. Some fun stories surfaced about working with Art and Ruth Clokey… oh, the clay fights! Many of the speakers described how their first film/TV job at Clokey Productions catapulted their careers. Collectively, they have gone on to work on blockbuster films and popular TV series too numerous to mention here.
Among the "Gumby Gang" speakers from the '60s studio was seven-time Academy Award winning make-up artist Rick Baker (Maleficent, An American Werewolf in London, Men in Black, Star Wars, and many, many more), who got his start as a teenager at Clokey Productions in the late '60s. Baker was joined by two of his contemporaries: Doug Beswick, with more than 40 years of visual effects achievements to his credit, including Star Wars, Ghostbusters, Terminator, Aliens, Evil Dead 2, Gremlins 2, Nightmare on Elm Street 3, and Beetlejuice; and Harry Walton, (Nightmare Before Christmas, The Abyss, James and the Giant Peach, Who Framed Roger Rabbit…) well-known for his skills in animation, visual effects, fabrication, puppet making and photography. Bill Stromberg and Carl Jablonski, animators/puppet makers, rounded out the speakers from the '60s.
Norman DiCarlo, Richard Zimmerman, and Chris Peterson represented the Clokey/Productions crew from the 1980s studio in Sausalito, CA. Ron Dexter and Fred Thompson elaborated on the more recent Clokey/Premavision productions in the 2000s.
Chris Peterson from LAIKA Studios introduced that studio's newest film, Boxtrolls, and a team from Stoopid Buddies Studios (producers of Robot Chicken) previewed some of their work, discussed the more technical aspects of stop motion animation, and gave some insights on how the medium has evolved.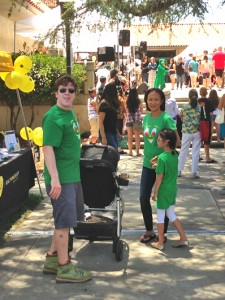 Creativity and New Gumby Memories
While the adults were riveted to the presentations, kids absorbed themselves in the many art and animation activities and games. They created their own stop motion videos, assisted by animators from Stoopid Buddies Studio. Visitors got Gumby temporary tattoos, danced along with Gumby to live local bands and ate yummy Gumby & Pokey cookies and cupcakes baked by a local Glendora bakery. Race car driver Kenton Koch, a Glendora native, showed off his custom Gumby race car, helmet and race suit. He graciously donated the helmet and suit to the Glendora Library for an auction. Read more about Kenton Koch.


All in all, it was a fantastic Gumby Day! The Gumby Central Gang appreciates all of the fantastic ideas, perfect coordination, and countless hours of volunteer work provided by the Glendora organizations their teams. A huge Gumby thank you to all who were involved! We are looking forward to Gumby Fest 2015! Glendora rocks!