Approved Uses for the Gumby Costume
With Halloween just around the corner, we're pulling out our Gumby and Pokey costumes. The new Gumby costume has been incredibly popular—and not just for Halloween. Gumby costumes are popping up everywhere. We've heard about fans who keep the costumes in the trunks of their cars for easy access when they happen to be in situation that invites a green laugh or two. Need a character for your next video? Check. Need to entertain guests at a birthday party? Check. Need to dress up for a parade? Check. Gumby's ready to go.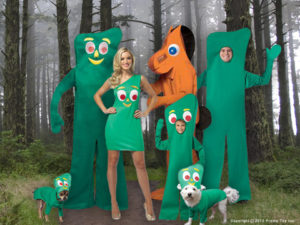 Gumby's no stranger to the sports arena. One of the most common uses for the Gumby costume is to cheer teams on at nationally televised basketball, baseball and football games.
We've seen Gumby a number of times cheering from the stands on ESPN coverage of college basketball games, even from the front row. The Milwaukee Bucks have an "official Gumby fan" who made his own outfit. The Bucks star player sports a Gumby haircut.   There is another player, on the Green Bay Packers, whose nickname is Gumby. Gumby and sports—it makes sense. Gumby is known for his flexibility and tenacity to succeed. He stretches for excellence.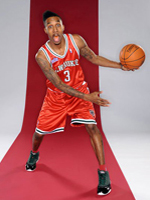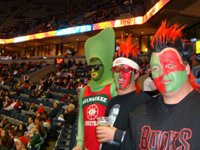 We at Gumby Central love all of these. Art Clokey, Gumby creator, would have been honored. A true pioneer in stop motion animation who always pushed the envelope of the imagination and had a great sense of humor… that's Art Clokey. The creativity that fans show is true to Gumby's positive, enthusiastic spirit.
We'll be sharing some of the fun ideas we come across on GumbyCentral, Gumby's official social media sites. So you'll want to become a fan on Facebook,  follow us on Twitter, and subscribe to our YouTube channel. Send us your favorite Gumby-inspired costume shots, and we may feature one in the Gumby Fans Hall of Fame or in a future blog post. Email us here.
Happy Halloween from Gumbyworld.com!
P.S. Don't forget Gumby's pal Pokey—he has a costume, too.