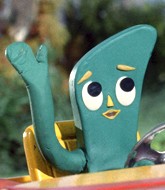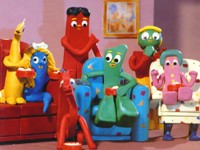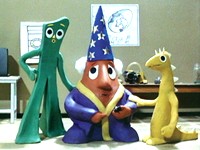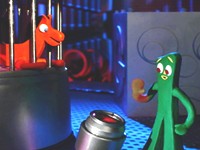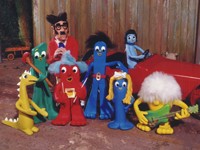 « Back to Gumby Overview
Gumby's Shape
Art wanted to have a tall, slender shape, but he didn't want it to become a phallic symbol. "We put a little bump of wisdom on his head to give him the bump of wisdom that the Buddhists have. The only difference is that they have it over the center of their head, and Gumby's is over to the side. Actually, the real inspiration for this bump came from my early childhood."
The size and location of the Gumby bump match up with a picture of Art's father (taken when he was eighteen), who had a huge cowlick on the side of his head that he could not stay down. The picture hung in Art's grandfather's farmhouse in Michigan. "If you superimpose an outline of that portrait over Gumby, you will see that the heads coincide perfectly."
He was once a Little Green Slab of Clay
Art worked with the Gumby shape for a while before he decided that the optimum height for Gumby was seven inches. He cut several Gumby shapes at a time from a large, half-inch slab of clay. The arms were rolled separately and cut from long snake-like lengths of clay, and soft wire was pressed into the arms to help maintain their poses during the frame-by-frame animation process.
While the earliest Gumby forms were made from rolled slabs of clay, Art found it best to pour hot clay into molds to make a consistent shape more efficiently in the 1960's.
The Shape of Gumby through the Years
If you've been a Gumby fan for years, you may have noticed that his body shape and eye color have evolved over time. The photo below shows how Gumby has changed. Gumby had a more handmade look in 1956. His shape became more refined in 1957, and the1960's form had a character all its own. The 80's and 90's shapes synthesized the earlier ones into what Art ultimately wanted.
On eye color, Art stated, "Oh yeah. You see, black and white television was prevalent in the 50's, and we noticed that the red beads on Gumby and Pokey's eyes were not prominent enough. They faded into the rest of the light gray of their bodies, so we changed to little black discs on the eyes of Gumby and darker eyes for Pokey. The expression was much clearer and sharper on TV. So that is the reason we changed them."